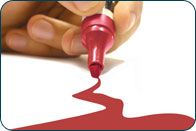 Every web design company has very different methods that they use to produce a website. These methods are usually limited by the web design company's experience and skills. With a wide range of web design technologies to choose from and an even wider range of ways in which to utilize them, it's no wonder that websites vary dramatically in terms of both quality and functionality. Depending on what the website is for, things such as usability and visual appearance might have a reduced priority. This is especially true for websites that serve only a basic purpose such as corporate intranets, online art galleries and information warehouses.
There is a web design choice for every level of quality and for every specific need. This can be both a blessing and a curse for the prospective website owner and developer. On one hand, having a free market is good for competition. On the other hand, the cornucopia of options can be overwhelming, especially if neither the website owner nor the web design company understands the purpose of the website.
Most web design firms have a narrow field of vision that is suited to a single approach with regards to web design. For example, some web design firms use technologies that are great for editing hundreds or thousands of websites with increased efficiency and productivity. However, these technologies have drawbacks in terms of Internet presence and search engine visibility.
Other web design firms use slick design methods and incorporate Flash elements into the website as their primary method of rendering a website. The result is visually exciting on specific computer systems. But there will be serious compatibility issues with older browsers. There's also the problem of longer download times and these flashy websites will have low value in terms of visibility on search engines and the Internet at large.
Some companies will go to the trouble of hiring skilled programmers to produce a website, but don't employ a user-interface designer. This would have added usability and a logical information layout which would make the website easier to navigate and aesthetically pleasing.
At IntraMedia, we have developed a precedent-setting, complete method which employs all of the previously mentioned advantages without the various disadvantages that are common with limited web design methods. Our proprietary methodologies for producing websites are the reason why our clients have been successful since 1999. IntraMedia's Internet presence development process is a one-of-a-kind method which achieves all the necessary objectives of a great website:
Usability - Our in-house user-interface designers will ensure that your website is fully functional and easy to navigate.
Compatibility - IntraMedia websites are cross-compatible with all web browsers and are scalable to any available screen resolution.
Quality - Well-designed, informative Internet presence campaigns that consistently provide results.
Logical Information Organization - Prospective clients will be able to find information that they need when making the decision to do business with you. Even when they don't know the right questions to ask.
High Visibility in Search Engines - Keyword optimization techniques work with search engines.
Works Well with Internet Marketing Campaigns - We don't just make a website and then let it sit there. IntraMedia works to ensure that your website is seen by those who will want to do business with you.
Visually Appealing - Our graphic designers create an unobtrusive layout that is simple and functional.
For more information about other web design topics or website design services, please visit the web design area or select from the list below.