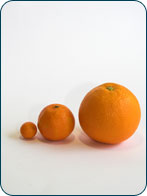 Website resolution is the usage of some or all of the pixels available from a computer's display. These pixels are what will render the Website design. A computer monitor's resolution is a measurement of the number of horizontal and vertical pixels spanning the display. This is typically set at the factory, but can be adjusted depending on the user's preference and needs.
The previous standard resolution on most displays was set to 800x600. This was back in the days of Windows 95/98. Technologies have improved and the new standard for most computers is 1024x768. It's important to understand that while this is today's standard, the flat screen displays that will soon become commonplace use a much higher resolution by default.
It's unfortunate, but most Website Design methods utilize a static-type, fixed-position design. This method makes use of only a portion of the available display space. Often times, there will be large unused blank spaces on the sides of the screen. This was an acceptable method back when the Web was still new and most displays were 800x600. However, today's rapidly increasing display resolutions render this type of Website Design as sparse and looking poorly planned.
The static fixed-position Web Design method doesn't adapt well and offers progressively diminishing usability. This is especially true on flat panel displays which come with a factory default of 1280x1024. On these screens, most Websites will appear very small. The text will be hard to read and the graphics will not show up well.
Supporters of static fixed-position Websites will argue that their method allows for better control of the design elements and layout of the content. Granted, these Websites are easier to produce and yield a much higher profit margin; not for the Web Designer's client, but for the Web Design company.
At IntraMedia®, we feel that making use of the entire screen display is the most obvious and advantageous priority for Website Design. The success of our clients is important to us and we would like for your Website to display properly on all end-users' displays. IntraMedia offers an alternative technology for displaying a Website over many different display resolutions: Relative Adaptive Display Design™.
Relative Adaptive Display Design™ renders the Website on any end-users' display by spanning all available screen space. The Website Design will adapt to the end-users' resolution, display-type and size and render appropriately. This leads to a more enhanced, immersive experience which focuses users' attention on all aspects of your Internet presence, making them feel like they are virtually visiting your business or organization, rather than merely viewing another Web Page on the left side of their browser.
For more information about IntraMedia's Relative Adaptive Display Design™ technology please visit our website design Innovation section of the website. For more information about other web design topics or website design services, please visit the web design area or select from the list below.