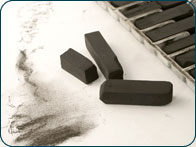 Most websites are designed using outdated standards; static or fixed website design is the most common design method you see used on websites. You can identify a statically designed website by the presence of unused margins or "white" spaces," on the right side of the screen, or on both the left and right sides. These websites appear sparse and leave a lot of unused space on your screen, negatively impacting a website user's experience.
At IntraMedia we have developed an innovative, dynamic type of website design method, Relative Adaptive Display Design™ Technology. Our innovative Relative Adaptive Display Design™ Technology adapts to the user's resolution, display-type and size, and renders appropriately. This leads to an enhanced, immersive experience which focuses the user's attention on all aspects of your website, making them feel like they are virtually visiting your business or organization, rather than merely viewing another web page on the left side of their browser.
Website Design & Website Usability:
Websites are for website users, so our goal is to always strive to make our websites better for the people using them. Usability is one of the most important aspects of website design, and ironically it's many times the aspect that gets the least amount of attention during the process of developing a website. We have spent almost a decade researching and compiling information on website and Internet users' behaviors so we can more fully understand how users interact with websites. Our website user interface designs are engineered for ultimate usability. Compelling website designs that are highly user-friendly has been our specialty since 1999.
IntraMedia provides the complete Internet presence solution for your company, by integrating compelling web design with progressive Internet marketing.