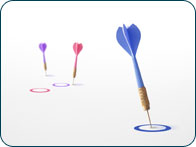 Search engine marketing is a highly specialized field of Internet marketing which requires the mastery of a multitude of professional disciplines in order to be successful. Search engine marketing campaigns require various tasks and special skill sets in order to properly execute and implement. Search engine marketing specialist perform such tasks as keyword research and analysis, link popularity management, website source code programming, information architecture assessment, pay per click bid management and maintenance, use of website analytical information to adjust search engine marketing strategies, and monitoring of marketing campaign elements. These are just some of the components that a professional search engine marketing specialist must utilize. It requires experience and a vast knowledge base in order to successfully execute all the search engine marketing elements and integrate them into one cohesive search engine marketing campaign.
Inexperienced use or mismanagement of vital search engine marketing elements can negatively affect the performance of your search engine marketing campaign. Unless all the search engine marketing elements are managed correctly, it's likely that your website has yet to achieve its potential in terms of visibility in the search engines, as well as maximizing the amount of return on your marketing investment. An experienced search engine marketing specialist can ensure that all the elements, strategies and technologies are implemented correctly and managed properly in order to continually see results in the search engines.
IntraMedia offers the complete Internet presence solution, by integrating compelling web design with progressive Internet marketing. For more information on our search engine marketing services, including search engine optimization (SEO) and pay per click management (PPCM,) select from the links below.