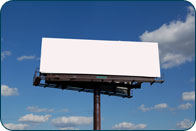 Banner advertising has come along way since the Internet became a viable marketing tool. Today, banner ads are available in various types of formats and media such as video banner ads, audio banner ads, interactive banner ads and textual / graphical banner ads. Banner ads of all types have one primary objective; to capture your attention and direct you to another website. Most of the time a banner advertising campaign requires different banner design and marketing strategy for each website your banner is on, due to the fact that your banner will appear on scores of websites, all with different designs, website content and subject matter. Banner advertising can play an important role in maintaining a successful Internet marketing campaign.
Banner advertising makes use of other websites' visitor traffic to promote the goods, products or services your company offers through its website. By diverting website visitors to your website, other website owners can essentially "sell" their website visitor traffic. The concept is simple; if a website visitor is finished using one website, the website owner can still make money when they leave, as long as the banner is effective at enticing the user to click on it. Along with other Internet marketing strategies, banner advertising is a great component of many successful Internet marketing campaigns. Internet marketing strategies such as search engine marketing (SEM), its sub-specialties search engine optimization (SEO), and pay per click management (PPCM) are many times the primary strategy for progressive Internet marketing campaigns. Banner advertising can capture additional website visitors that weren't purposely searching for your company's website but were enticed through effective banner ads.
IntraMedia offers the complete Internet presence solution, by integrating compelling web design with progressive Internet marketing. For more information on Internet marketing and search engine marketing services, select from the links below.