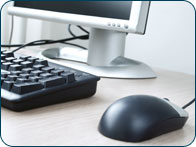 The Best Investment For Your Company:
A successful Internet presence campaign for your company can dramatically increase your company's bottom line. A compelling web design integrated with a progressive Internet marketing campaign will transform your website into a 24-7 sales, marketing and customer service agent for your business or organization.
We can accomplish some amazing things for your business on the Internet, but just like anything that is truly valuable, it comes at the price of a lot of hard work. Success on the Internet requires mastery of many different aspects that have to simultaneously work together in synergy. It also takes a web design company that has experience, dedication, knowledge and constant innovation in web design and Internet marketing to become and remain successful on the web. For over a decade IntraMedia has been helping businesses and organizations of all types realize their company's potential on the Internet.
Web Design & Internet Marketing Rates:
Just as unique as DNA, each web design and Internet marketing campaign presents its own unique challenges and has different goals and objectives. This is why it's impossible to create a set price for website design or Internet marketing services due to all the variables that affect how much time is involved with each project. Below is a list of our web design and Internet marketing rates.
IntraMedia Web Design Rates:
Website design and development is dependent on website functionality, feature sets, amount of information and numerous other factors. Each website has different objectives and goals that demand a unique approach in every situation.
Website Design Services:
Custom Website Design
Content Management
Digital Graphic Design
Logo Design
Flash Website Design
Website Network Troubleshooting
Website Maintenance
Website User Interface Design
Website Redesign
Website Hosting:
Website hosting is a service we provide primarily for our website design and Internet marketing clients to provide a single solution for all their online needs.
IntraMedia Website Design Evaluation:
Website design evaluation is a flat rate of $500, applicable towards any professional website design service IntraMedia offers.
Website Development Services:
General Website Development
Database Application Development
Intranet / Extranet Development
Ecommerce Website Development
CSS Design and Development
HTML / XHTML / XML Website Development
JavaScript Website Development
Flash Action Script Development
PHP Website Development
MySQL Database Development
ASP.NET and MSSQL Website Development
CGI and/or Perl Development
Java Development
Python Development
IntraMedia Internet Marketing Rates:
Just like web design, each Internet marketing campaign presents unique challenges that require a specialized approach to each campaign. With over ten years of experience in the specialized field of Internet marketing and search engine marketing, IntraMedia has helped companies of all types reap the rewards of a successful Internet marketing campaign. Each projects price will vary greatly depending on marketing objectives and metrics.

The following is a list of some of the services we provide through our Internet marketing solution:
Search Engine Marketing
Pay Per Click Management - PPCM
Search Engine Optimization - SEO
Search Engine Marketing Specialists
Managed Search Engine Marketing
Search Engine Marketing Consulting
Search Engine Marketing Placement
Search Engine Submission & Indexing
Link Popularity & Link Management
Banner Advertising
Website Analytics
Internet Marketing Public Relations
Internet Marketing Philosophy & Ethics
IntraMedia synergistically integrates compelling web design with progressive Internet marketing, providing one comprehensive solution for all your company's online needs.